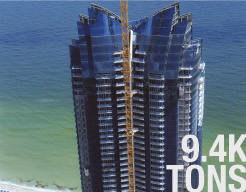 GC:
Coscan Construction

SCHEDULE:
August '06 - January '09

POST-TENSION:
909,417 lbs

Jade Ocean
Miami, Florida
Jade Ocean is a 51-story condominium tower consisting of a 5-story parking garage and an amenity/pool area on level 6. The pool walls were poured monolithic with the pool base creating tremendous challenges with form work. It also had an intricate concrete fountain wall and many other architectural fewatures all formed out of concrete.
During the course of the job, the team was faced with many unique situations, such as high winds which shut down operations numerous times. However, the tower was completed three weeks ahead of schedule, and the podium a week early. The fast paced three day cycle was maintained with a project team of up to 40 co-workers.
This project also presented logisitcal challenges due to the the location, which made the scheduling of the material extremely critical.