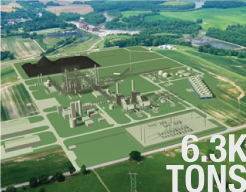 GC:
F.A. Wilhelm

SCHEDULE:
April '09 - September '10


Duke Energy
Edwardsport, Indiana
Duke Energy's $2.88 billion 618-megawatt Integrated Gasification Combined Cycle (IGCC) facility located in Edwardsport, Indiana will be one of the cleanest and most efficient coal-fired plants in the world when it begins operation in 2012. With the new IGCC, it is possible to use coal to generate large amounts of electricity while attaining lower emission levels than previously possible.
Titan Reinforcing, which was subcontracted under F. A. Wilhelm, installed over 6,300 tons of reinforcing in the gasification and power block areas. The size, complexity, and fast-paced schedule required the team to work on multiple base mat foundations and other areas at the same time.
It took excellent communication and coordination from the project team, with the rebar supplier and customer, to unload and install up to six truck loads of rebar in any one day. Given the daily challenge of working in a tight area, with minimal room for lay down, Titan always maintained the schedule of the project through completion.