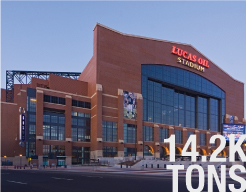 GC:
Hunt Construction

SCHEDULE:
February '06 - December '07

Lucas Oil Stadium
Indianapolis, Indiana
Lucas Oil Stadium is a $720 million retractable roof stadium in Indianapolis, Indiana. the stadium celebrated its grand opening on August 14, 2008. It replaces the RCA Dome as the home field of the NFL's Indianapolis Colts. Seating capacity for football games is 63,000. The stadium, when it will host a Super Bowl, can be expanded to a capacity of 70,000. The basketball configuration will exceed the 70,000 minimum seating capacity required to host the NCAA Final Four. Unlike most basketball contests played in dome facilites, the court at Lucas Oil Stadium will be placed in the center of the facility instead of one of the end zones.
Completed within a twelve month time frame, the Lucas Oil Stadium, is, to date, the fastest constructed concrete stadium structure in the United States.
With seven levels of reinforced concrete decks, consisting of 1.8 million square feet, Titan was able to complete this large, complex project within one year. Titan was able to maintain the fast paced schedule by working two separate shifts 6-7 days per week. During the peak of the project the Titan team consisted of more than 150 coworkers onsite.
There are more than two thousand reinforced concrete columns with #11, #14, & #18 vertical reinforcing bars that were spliced with more than 95,000 bar grip couplers. The 126 reinforced concrete raker beams were on 3 different elevations that contained #14 & #11 reinforcing bars with 1,800 bar-grip couplers.