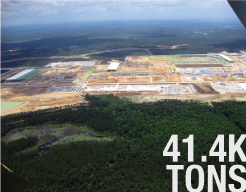 GC:
ThyssenKrupp Steel and Stainless USA

SCHEDULE:
October '08 - May '10

ThyssenKrupp Steel & Stainless USA
Calvert, Alabama
ThyssenKrupp Steel & Stainless USA selected Calvert, Alabama as the resting place for its new $3.7 billion stell processing facility. This cutting edge plant will serve multiple high value applications for steel throughout North America, and will supply economically crucial industries such as automotive, construction, utility, and engineered products.
The Alabama plant will utilize advanced technology in all seven components of its new facility, from a large-scale river terminal to a cold rolling mill and meltshop located on the massive plant site. The new mill is expected to produce an output upwards of 4.1 million metric tons annually.
Titan installed over 41,000 tons of reinforcing steel on the 36,000 acre ThyssenKrupp site. This immense reinforcing scope was completed in 18 months with a team of up to 120 co-workers. With Titan's help there were numerous weeks that over 20,000 cubic yards of concrete were poured in a single week. Due to the quality and reputation, Titan worked under two different contractors on six project contracts.