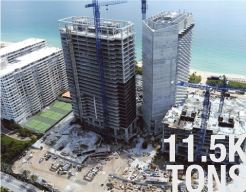 GC:
Coastal Construction

SCHEDULE:
March '08 - June '10

POST-TENSION:
2,634,837 lbs

St. Regis Resort & Residences
Miami, Florida
Miami-based Coastal Construction started in late 2007 on the $480 million St. Regis Resort & Residences project which will measure more than 2 million square feet and feature two 26-story buildings over a three-story podium. It will contain 268 condominium units and 243 hotel and fractional-ownership units.
On the St. Regis project, Titan Reinforcing didn't only install over 11,500 tons of reinforcing and 2.6 million pounds of post tensioning, the project team also furnished and managed all of the materials associated with the rebar placement. In order to furnish and install the reinforcing and post tensioning on a project of this magnitude, it took excellent coordination and communication efforts on Titan's behalf. From managing multiple suppliers, to reviewing shop drawings, and submitting RFI's, the Titan team never missed a pour and the completion date exceeded expectations.
With over 110 co-workers working on all facets of the three towers and podium areas at once, Titan maintained exceptional safety and quality. Over 108,000 hours were worked injury free.